With Fathers Day right around the corner now is the time to look for the perfect gift. We think nothing can compare to Dad's safety, survival, and health so why not give him a gift that will provide just that. we searched the internet for some great Fathers day deals and products and here is what we came up with.


The CRKT 9200 Multi-Tool
This is arguably the best new multi-tool available and it has an awesomely low price tag. So tell Dad to drop that rusty old swiss army knife tool and pick up the Columbia River Knife and Tool 9200
The SwissTech Multi-Tool / Everyday Carry Bundle
Dad will thank you when you give him a gift that can perform 45 different functions and that is just what he will get with the SwissTech bundle.
Bear Grylls Survival Tool Set
The Bear Grylls Survival Tool Set by Gerber was compiled by
All Cool Tools
. This set includes 5 essential Gerber survival tools and a Gerber Bear Grylls Survival Series Ultimate kit that includes 16 different tools and equipment.
Jaco Training Jacket (Black/SugaFly Yellow)
This new training jacket by Jaco is a stylish jacket for working out, running, or just looking cool so your Dad can look good and feel good.
Man-Shaped Dummy Punching Bag - Filled
This is a great gift for Dad if your a bad son because instead of beating you he can beat this man shaped dummy punching bag to take out all of the frustrations you have caused him.
Boker Bolt Action Tactical Pen
Good Dads need good pens, it's a fact. This Boker Tactical pen not only has a cool mechanism that mimics a bolt action gun but its high quality construction allows it to also be used as a self defense tool.
Klein Tools 28 Piece Tool Set
This tool set includes 28 new and high quality tools by Klein with a lifetime warranty. This is a great gift for Dads from Moms that want to tell their husband to GET TO WORK in a more subtle way.
For other cool tool sets by Klein tools
Click Here
.
CRKT Gekkota Golf Multitool
This little tool here is a great accessory for the Dad that golfs. It's called the Gekkota Golf Multitool by Columbia Rive Knife and Tool (
CRKT
). The Gekkota Golf tool has a divot fork, bottle opener, golf ball marker, screwdriver, and money clip. It can easily attach to a key chain or clip onto your hat.
Venum Green Viper Boxing Gloves
Your Dad is probably going to need something to protect his hands while punching that Man-Shaped Dummy Punching Bag that his favorite child got him from the top of this post. So why not get him these awesome new boxing gloves by Venum. You will still be his second favorite but at least he will have the best boxing gloves available.
Click Here To Buy($84.99)
Gerber Vehicle Safety/Off Road Survival Kit
If your Dad is on the road feel comfortable that he has the tools he needs to stay safe with the Gerber Vehicle Safety/Off Road Survival kit. It comes with five high quality tools and a cool case that fits in any backseat or trunk.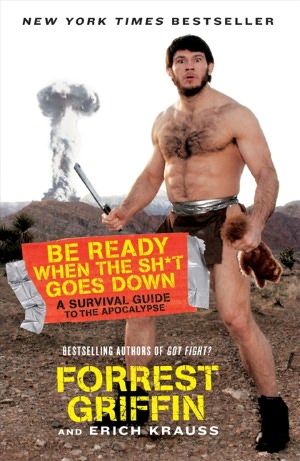 Get your Dad this funny and entertaining book by UFC fighter Forrest Griffin called
"Be Ready When The Shit Goes Down: A Survival Guide to the Apocalypse"
Available now on Amazon.com for $10.19
Home