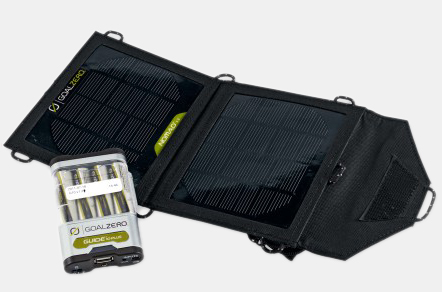 If you need a portable power source on the go whether it's at a job site, camping, disaster zone, or anywhere a power outlet is not available the company
Goal Zero
has you covered. They make affordable and portable solar power solutions available for consumer electronics products. Goal Zero's solar power products work with any devices that have a USB output.
Goal Zero sells power solutions for small, medium and large sized electronics. Each kit they sell comes with a solar panel for collecting power, a power pack for storing any power collected, and a USB cable for transferring power to your device.
The way it works is very easy. First you collect power using a durable, highly efficient mono-crystalline solar panel that is provided in the purchase. Then the power is stored in a power pack. Then you can plug your personal electronic device into the power pack to get that much needed juice.
Small Kits
Goal Zero Guide 10 Plus Mobile Kit
($99.99)
1 x Guide 10 Plus Battery Pack
1 x Nomad 3.5 Solar Panel
1 x Ultra Charge Solar Cord
1 x AA rechargeable batteries (4 pack)
Goal Zero Guide 10 Plus Black/Silver Small Adventure Kit
(199.99)
1 x Guide 10 Battery Pack
1 x Nomad 7 Solar Panel
1 x Ultra Charge Solar Cord
1 x 12V cigarette adapter
1 x AA rechargeable batteries (4 pack)
Medium Kits
1 x Escape 150 Power Pack
1 x Boulder 15 Solar Panel
1 x AC wall charger
1 x 12V output female cigarette adapter
New Goal0 Escape Scout 150 Explorer Kit
($378.95)
1 x Escape 150 Power Pack
1 x Escape 30 Solar Briefcase
1 x AC wall charger
1 x 12V output female cigarette adapter
Large Kits
Goal Zero Silver/Black Large Extreme 350 Adventure Kit
($519.95)
1 x Extreme 350 Power Pack
1 x Boulder 30 Solar Panel
1 x Extreme Universal Inverter (UI)
1 x AC wall charger
1 x Female 12V Adapter
Goal Zero Extreme 350 Explorer Kit w/ Power Pack & 2 Boulder 30 Solar Panels
($849.95)
1 x Extreme 350 Power Pack
2 x Boulder 30 Solar Panel
1 x Extreme Universal Inverter (UI)
1 x AC Wall Charger
Goal Zero Extreme Base Camp Kit
($1519.00)
2 x Extreme 350 Power Packs
4 x Boulder 30 Solar Panel
4 x Light-A-Life LED Lights
1 x Extreme Universal Inverter (UI)
2 x AC Wall Charger
4 x 12V male cigarette adapter
4 x 9' cord & patented carabiner
1 x chaining cable
Home