Red Wing Heritage collection
The Red Wing Heritage Collection is not just a new batch of high quality footwear.
It's important you know Red Wing's history
and the impact their shoes have had on people's lives
to fully understand what has gone into creating the Heritage Collection.
It all started in southeast Minnesota around 1893. A man named Charles Beckman started a small shoe store with the intent to sell only the best quality shoes. His quest for finding and selling great quality shoes lead him to the conclusion that there was still room for improvement so he became a shoemaker himself. He then found some investors and in 1905 founded Red Wing Shoes. The name Red Wing was the name of the town in Minnesota that he settled in and ran his store from.
The first Red Wing boots were all hand sewn with care and around 1909 they became a top selling boot brand. Their Brown Chief Boot made in 1912 became known throughout America as the go to boot for hard labor. After that they released the Pecos Boot a practical boot for cowboys and farm work. Then their Irish Setters line started in the 1950's and was pivotal in making Red Wing a worldwide brand. They kept on innovating and making a great quality product with a focus on the working man. Red Wing's story is really cool because through quality and simplicity they grew to one one of the most respected and recognizable men's boot manufacturers in the world.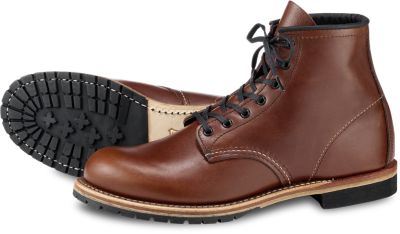 The Heritage Collection is not just a new style of Red Wing boots but a dedication to the their customers, to their roots, to the many craftsmen and companies that allowed for such a wonderful and colorful history. That being said we should wear them as a dedication to Red Wing for over 100 years of providing America and the World's workforce with a product that is consistently great.
Some people are critical of the current prices of Red Wing boots which on average are $180 to $300 per pair. You can bet on it that these people never owned a pair of Red Wings. There is nothing wrong with that, they may not have ever needed a pair, or have been content buying new generic boots every year. These boots will stand up against any other premium work boot and last through 5 or more pairs of generic boots. You can even send then back to the factory to have them resoled or fixed if anything should ever happen to them.
Featured Heritage Collection Boots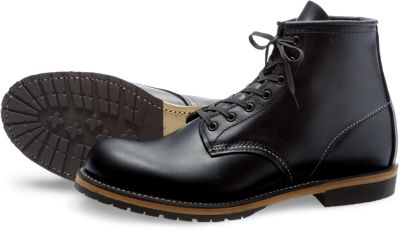 Red Wing Shoes Men's 6" Beckman Boot
As a recently homage to Charles Beckman, Red Wing has released this wonderful new addition called the "Beckman Collection" a beautifully designed dress boot made from high quality leather that will last a lifetime.(Buy It)
Home
"It takes more than 230 steps to handcraft each pair of Red Wing boots, but only a few to keep them looking good."
Click Here for Red Wing Shoe care products from Amazon
source-http://www.redwingheritage.com/