The Ferrari Berlinetta F12 is a powerhouse of a car that is slated to become Ferrari's flagship vehicle in 2013. Many things make the F12 special. It's super fast, incredibly sleek look is everything you would expect out of a new Ferrari.
As for performance, forget 0 to 60mph this thing goes 0 to 124mph in an astounding 8.5 seconds with max speeds of over 200mph. That makes it the fastest street legal Ferrari ever manufactured. It gets this amazing power by way of a V12, 6.3 liter engine pumping out 700 plus horse power.
The focus of the exterior design of the Berlinetta F12 is aerodynamic efficiency, as little drag as possible. To attain the highest quality design they enlisted the help of Italian car design company, Pininfarina.
The interior is beautifully styled and all about function. The Ferrari F12's interior seems to cater to usability and human/machine relations. All of the controls are placed within comfortable reach of its driver and are made of high quality leather and carbon fiber. Even though the Ferrari is a coupe they were able to design a place behind the seats for a couple pieces of luggage. Your pet tiger probably wont fit there though but i heard it's just enough space for T-Rex eggs.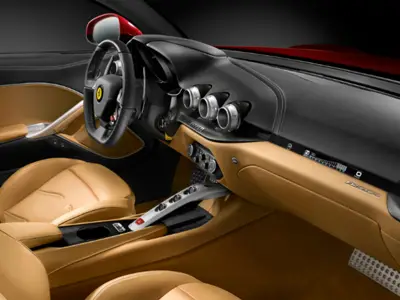 This brings us to the price of the Ferrari F12. We all know it's not about price when it comes to high quality awesome goods like this, however i think its important that your accountant know its going to be around $498,000. This link may help with payment Click Here.